Feature Narrative Competition Jury
Cedomir Kolar
Head of Jury
Cedomir Kolar, the Oscar-winning producer of No Man's Land (2001), has been active in film production for three decades and has more than 30 feature credits. Born in the city of Rijeka in the former Yugoslavia, he graduated with a degree in film production from the Belgrade Academy of Dramatic Arts. His credits include Before the Rain (1994, Academy Award nominee). In 2003, he founded A.S.A.P. Films, together with Tanović and fellow producer Marc Baschet. He produced Tanović's acclaimed films Hell (2005); Cirkus Columbia (2010) and An Episode in the Life of an Iron Picker (2013). He has worked with renowned directors such as Benjamin Filipovic (Bosnia & Herzegovina), Marion Hänsel (Belgium), Aktan Arym Kubat (Kyrgyzstan), the late Idrissa Ouedraogo (Burkina Faso) and the talented Ritesh Batra (India), for whom he produced Bafta-nominated and widely acclaimed The Lunchbox (2013). The European Film Academy recently honored him with the European Co-Production Award.
Carlo Chatrian
Jury Member
Journalist, author and programmer, Carlo Chatrian (b. 1971, Torino, Italy) graduated from Turin University with a degree in literature and philosophy. He worked regularly as a film critic for several magazines. His valuable contributions to the world of cinema include numerous essays and monographs on filmmakers, such as Wong Kar Wai, Johan van der Keuken, Frederick Wiseman, Errol Morris, Maurizio Nichetti, and Nanni Moretti, conducting courses at various film schools and curating programmes at several festivals and filmrelated institutions. He has been a programmer for Alba Film Festival, Florence Festival dei Popoli and Visions du Réel. He joined the Locarno Film Festival in 2002 and was the artistic director of the festival from 2013 to 2018.
Vimukthi Jayasundara
Jury Member
Vimukthi Jayasundara, born in Sri Lanka, is a visual artist and screenwriter. After making The Land Of Silence (2001), a documentary about the victims of the civil war, Jayasundara studied at the Fresnoy School of Art. He became a resident at the Cinéfondation, Cannes in 2003. In 2004 he directed his first feature, The Forsaken Land, which was awarded the Caméra d'Or at the 2005 Cannes Film Festival. Gilles Jacob, the then President of the Cannes Film Festival, stated that a great hope for the renovation of contemporary cinema was born, after watching the film. Jayasundara's films Between Two Worlds (2009) and Mushrooms (2011) premiered respectively at Venice and Cannes. His recent works include the features Dark in the White Light (2015, Locarno, Nantes) and Her. Him. The Other. His work speaks from the borders; those that separate a country from another, modern cities from ancestral land, and the threshold between the living and the dead.
Ahmed El Maanouni
Jury Member
Ahmed El Maanouni (b. 1944) is a Moroccan screenwriter, film director, cinematographer, actor and producer. He studied cinema at the INSAS in Brussels and theatre at the Université du Théâtre des Nations in Paris. His films include Alyam Alyam / Oh the Days (1978), the first Moroccan film to be selected for the Cannes Film Festival, and winner of the Grand Prize at the Mannheim Film Festival. He caught international attention when his film Trances (1981) was honored and presented by Martin Scorsese at the 2007 Cannes Film Festival to inaugurate the World Cinema Foundation. His film Burned Hearts (2007) won the Grand Prize at the National Film Festival, and was awarded many international prizes. His documentary films consistently interrogate colonial history and its impact on Moroccan memory. He directs study groups and educational programs in Morocco and throughout the world. In 2007 he has been honored with the title of Officier de l'Ordre des Arts et des Lettres in France.
Ali Suleiman
Jury Member
Widely acclaimed Palestinian actor Ali Sulaiman (b. Nazareth, 1977), shot to fame with his first major role in Hany Abu-Assad's Academy Award-nominated and Golden Globe-winning Paradise Now (2005), building up a remarkable body of work and becoming one of the most sought-after actor not only in the region but also internationally. He starred in award-winning films such as Zizana (2016) directed by Majid Alansari The Time That Remains (2009) by Elia Suleiman. He is one of the few actors from the Middle East to have worked with top Hollywood directors, such as Ridley Scott in Body of Lies (2008). His other notable credits include Cruel Summer (2012) by Kanye West and Alexandre Moors, Jessica Hebei's Mars at Sunrise (2012), Ziad Doueiri's Attack (2012); Inheritance (2012), directed by Hiam Abbas, and The Worthy (2016), directed by pioneering Emirati filmmaker Ali F. Mostafa. He received Best Actor Award at the 2011 Dubai International Film Fetival, 2012 Carthage Film Festival and the 2016 Alexandria Film Festival.
Ana Urushadze
Jury Member
The talented filmmaker Ana Urushadze was born in Tbilisi, Georgia in 1990. She graduated from the Shota Rustaveli Theatre and Georgia State Film University in 2013. Daughter of acclaimed filmmaker Zaza Urushadze, she started making short films when she was a student. Her notable shorts include Ideas (2010) and One Man Loved Me (2012). The much acclaimed Scary Mother (2017, GFF) is her debut feature and the winner of the Golden Leopard Award for Best First Feature at the Locarno Film Festival and the El Gouna Golden Star for Best Feature Narrative. The film went on to win several other international awards at festivals in Mumbai (Special Mention), San Francisco (Golden Gate, Best New Director), Gijón (Best Director), Sarajevo (Cineuropa Award and Heart of Sarajevo) and The Asia Pacific Screen Award (Best Actress and Jury Grand Prize), to name a few. Scary Mother was selected as Georgia's Official Submission for the Academy Awards in the Best Foreign Language Film category.
Mona Zaki
Jury Member
One of Egypt's leading stars. She landed her first role when she was cast in Mohammad Sobhi's Eloquent Arabic. Then she met with director Ismail Abdel Hafez who cast her in the successful TV series The Family. Among her remarkable works were Countryman in the American University (1998) and playing young Gihan El Sadat in El Sadat Days. Her talent and dedication were rewarded with the huge popularity of her films Africano (2001), Mafia (2002), Sleepless Nights (2003, Best Actress at Damascus Film Festival and Paris Biennale of Arab Cinema), Gazelle's Blood (2005, Best Actress for at the Cairo National Festival for Egyptian Cinema), Scheherazade, Tell Me a Story (2009, Best Actress at the Paris Biennale of Arab Cinema) and others, in which she portrayed the struggles of women of different backgrounds. Mona is well known for her contributions to national charities and in 2017, she was appointed as a Goodwill Ambassador for the UN.
Sarah Johnson
Head of Jury
CO-CEO AND FOUNDER, GREEN HUMMINGBIRD ENTERTAINMENT Johnson is a two-time Emmy and Peabody award winning independent film producer, she is an executive producer on several notable recent films including Alejandro G. Inarritu's Birdman, which won the Academy Award for Best Picture in 2015; James Gray's period drama, The Immigrant; Guillaume Canet's crime thriller Blood Ties; Atom Egoyan's crime thriller Devil's Knot; David Gordon Green's drama Joe; and Eli Roth's horror thriller The Green Inferno. Her documentaries on social issues include the Academy Award nominated The Square, Chasing Ice and The Invisible War, as well as the critically acclaimed The Hunting Ground and Living In Emergency: Stories Of Doctors Without Borders. Johnson is an activist for environmental, educational, and gender issues. She is a member of the Television Academy and an active member of the Producers Guild of America. A former Portfolio Manager at Franklin Templeton, she is active on the boards of St. Lawrence University, Conservation South Africa, and Chairs the board at Lamont Doherty Earth Observatory at Columbia University. She holds a B.S. in Biology from St. Lawrence University.
Mark Adams
Jury Member
Mark Adams is the Artistic Director of the Edinburgh International Film Festival, who joined the team in 2015. He was Chief Film Critic for the respected film trade paper Screen International and was also a film critic for The Sunday Mirror in the UK. He attends most key international film festivals around the world as a film journalist and reviewer for more than 25 years he has written for Variety, The Hollywood Reporter and Moving Pictures International, as well as many national newspapers in the UK. He has also worked extensively in the film industry. He was Head of Programming at the National Film Theatre in London for six years; was the Director of Cinema at the Institute of Contemporary Arts (ICA) in London and has been programmer for film festivals around the world as well as acting as a consultant for various film organizations.
Lyes Salem
Jury Member
Lyes Salem was born in Algiers, Algeria in 1973. After studying at the National Conservatory for Superior Dramatic Arts, he performed in some of the most respected theaters in the country. His second short film, Cousines, received France's César award for Best Short Film in 2005. As an actor, he has appeared in a number of films, including Alex, Banlieue 13 and L'Ecole de la Chair. Mascarade, his first feature film as a director, has won multiple awards. In 2014, he was awarded the Valois for best actor for his second feature film, L'Oranais. In 2015, he joined the cast of the Belgian hit I am dead but I have friends. In 2016, he acted in the film Carole Matthieu. This year, he can be seen in Carine Tardieu's film Otez moi d'un doute alongside Francois Damiens and Cecile de France in Samuel Jouy's Sparring with co-star Matthieu Kassovitz.
David D'Arcy
Jury Member
David D'Arcy is a critic and journalist based in New York. He reviews films for Screen International, The Art Newspaper of London (UK), and for KSFR radio. He also writes regularly on film for the San Francisco Chronicle. For more than twenty years, he covered movies and the business of movies for National Public Radio. His writings on films haves been published in The Economist, Indiewire, The Financial Times, The Guardian, and Variety. His film blog, Outtakes, can be read at artinfo. com. A frequent speaker and juror at film festivals, Mr. D'Arcy is at work on an anthology of interviews with the German director Rainer Werner Fassbinder. He is an art critic for the Observer (New York) and has lectured at the Metropolitan Museum of Art, the Boston Museum of Fine Arts, Wesleyan University, Columbia University and at the École supérieure de commerce de Paris. He lives in New York.
Ossama Fawzi
Jury Member
Born in Cairo in 1961, Osama Fawzi studied film making at the Higher Institute of Cinema of Cairo. In 1996, he directed his first feature film The Asphalt Kings (Afareet Al-Asfalt) which acquired him a lot of recognition in various local and international festivals and received many awards including the best film award from a Special Jury Committee, in Locarno Film Festival 1996. His next film was Fallen Angels Paradise (Gannet El-Shayateen) in the year 2000, which made him stand out as an innovator in the Egyptian movie industry and brought him, also, international recognition throughout various festivals. His film I love Cinema (Baheb El- Cima)in 2004, has been subject to controversy among critics and the Egyptian Coptic minority, which won him a few awards as well. In 2009 Osama Fawzi was involved in a JSC (Al-Jazeera children) special film production and in the year 2010 he directed his most recent film In Natural Colors.
.
Feature Documentary Competition Jury
Ally Derks
Head of Jury
Ally Derks is the founder of the International Documentary Film Festival Amsterdam (IDFA), which she directed for 30 years. She studied Dutch literature, film and theatre at the Utrecht University. Until 2015 she was also director and head of the selection committee for the IDFA Bertha Fund that supports documentary filmmakers in developing countries. She has been a jury member at numerous festivals including Sundance, Hot Docs, Silverdocs and Nordisk Panorama. Ally Derks has also been responsible for retrospective programs – including ones on Cuban, Kazakh, Lithuanian, Palestinian and Polish documentaries. She was awarded several prizes for nurturing documentary films, such as the Hot Docs "Doc Mogul Award" (2011). Furthermore, she received the Banninck Cocq Award and the IJ-Prijs from the City of Amsterdam. The Government of France honored her in 2015 as Chevalier de l'Ordre des Arts et des Lettres. In December 2016 she was recognized with the IDA Pioneer Award in Los Angeles.
Rashid Mashharawi
Jury Member
Pioneering Gazan filmmaker Rashid Mashharawi was born in 1962 in Shati refugee camp. A self-taught filmmaker, he worked in many films and learned the craft of filmmaking by observing. The film that drew international attention to Mashharawi was his work on the life of the Palestinian laborers, Shelter (1989). His film Haifa(1996) was screened at Un Certain Regard. That was the first time Palestine was officially represented at Cannes. Some of his other acclaimed works include Curfew (1993, Golden Antigone, Montpellier); Ticket to Jerusalem (2002, Silver Pyramid, Cairo IFF), Waiting (2005, Golden Unicorn, Amiens, RTBF Award, Mons), Laila's Birthday (2008, multiple awards at Amiens, Mons, Singapore, Fajr IFF etc.), Palestine Stereo (2013), and many others. He is also the founder of the Cinema Production and Distribution Center (CPC). Based in Ramallah, the centre has been conducting hands-on training workshops for young Palestinian filmmakers since 1996.
Mike Pandey
Jury Member
Mike Pandey, one of India's foremost wildlife and environmental filmmakers, was born in Kenya. Having grown up in the shadow of the world-famous Nairobi National Park, protecting wildlife came naturally to him. In 1994, he became the first Asian producer/director to win a Wildscreen Panda Award, also known as the Green Oscar, for his film The Last Migration – Wild Elephant Capture in Sarguja. His films Shores of Silence – Whale Sharks in India (2000), and Vanishing Giants (2004) won him two more Green Oscars. Over three decades he has put together an incredible number of 600 films including the popular television series Earth Matters. He has won 300 national and international awards. His work has often lead to legislative changes. He was awarded the United Nations International Award for Outstanding Achievement in Global Conservation. Mike is currently working on a feature film called The Return of the Tiger, which is supported by Hindi film industry actors Amitabh Bachchan and John Abraham.
Keith Shire
Jury Member
Keith Shire is an international film curator and programme advisor to the BFI London Film Festival. He has served in that position also for the Venice Film Festival and the Pan African Film & Television Festival, Ouagadougou (FESPACO). He is a Visiting Research Fellow for the Centre for Research & Education in Arts & Media (CREAM), University of Westminster, London. He was a member of the Berlinale World Cinema Fund from 2004-2007. Keith Shire is also the director of Books of Africa, London, and has served as an advisor for the cinema and audiovisual sectors of the EU's ACP (African, Caribbean & Pacific Countries) programme. He has been on the advisory board of New York's Focus Features' Africa First Programme, which supports young African filmmakers. He is on the advisory and programming committee for the Otherfield Documentary Film Festival and a jury advisor for the annual Africa Movie Academy Awards. Shire is dedicated to creating opportunities for African films and filmmakers on the global stage.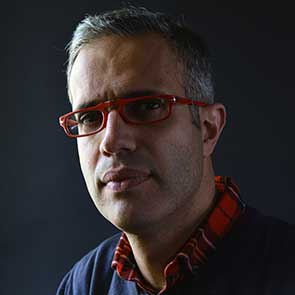 Hady Zaccak
Jury Member
Acclaimed and award-winning documentary filmmaker from Lebanon, Hady Zaccak studied film direction at the Institut d'Etudes Scéniques, Audiovisuelles et Cinématographiques, (IESAV) and earned his master's degree in 2001. He has since authored more than 20 documentaries that have been broadcast on several TV stations in Lebanon, the Arab world and Europe, winning awards and acclaim at several film festivals worldwide. Some of them include 104 Wrinkles (2017), Kamal Joumblatt, Witness and Martyr (2015), Marcedes (2011), Refugees for Life (2006). Zaccak's documentaries deal with religion in Middle Eastern countries, like The Neo Missionaries, the Copts and the Shiites, while others such as Beirut… Points of View and Taxi Beirut showcase the changes Beirut has gone through in recent times. Besides being a very active director, Zaccak authored a book— Le Cinéma Libanais: itinéraire d'un cinéma vers l'inconnu and teaches film writing, directing, history of cinema at the IESAV.
Deborah Young
Head of Jury
Born in St. Louis, Missouri, Deborah graduated with honors from Wellesley College and received an M.A. in Cinema Studies from New York University's Tisch School of the Arts. After moving to Italy, she worked as a journalist, film critic, screenwriter and translator. From 1990 to 1993 she was Variety's Rome Bureau Chief. In 2008, became the International Film Editor of The Hollywood Reporter. She is also a contributing editor of the American quarterly Cineaste. Deborah has been a consultant for the Tribeca Film Festival and the Venice Film Festival. She was the Artistic Director of the Taormina Film Fest from 20072011-. Under her mandate, the festival assumed a strong Mediterranean identity and greatly increased its international audience and prestige with films from Egypt and the Maghreb.
Sitora Alieva
Jury Member
Born in Dushanbe. she Made her film debut as actress at the age of 7. In the following 9 years played about ten roles in art and television films. In 1987 graduated from the scriptwriting and film history department of the Film Institute VGIK (course of E. Surkov and L. Mamatova). From 1987-88 expert of the Culture Fund. From 1987-91 senior film-editor at the studio "Tadjikfilm". Since 1991 lives and works in Moscow. From 1991-93 editor at the Fund for Cinema Support. From 1994-96 assistant to D. Dondurei, editorin- chief of the journal Film Art, at the same time film program coordinator of the International Film Festival in Sochi held by "Kinotavr" Company Group. From 1999-2005 director and member of the selection committee of the IFF Sochi, the IFF "Faces of Love", and the International Children's Arts Festival "Kinotavrik". From 2002-2005 executive director Open Russian Film Festival "Kinotavr". Since 2005 programme director of the ORFF "Kinotavr".
Tamer Karawan
Jury Member
Tamer Karawan studied Engineering at The American University in Cairo then studied music at The Royal School of Music. He worked as an editor at the British Broadcasting Corporation, and then a documentary director at Orbit Television Networks. In 1998, Karawan's first score was for Yousri Nasrallah's El Medina, then Raafat El-Mihi's Alshan Rabena Yehebak, Mohamed Khan's Banat West El Balad and Fi Shaket Misr El Gadida, Osama Fawzy's Bel Alwan El Tabieia, Sameh Abdel Aziz's Cabaret. Karawan continued composing distinguished scores for renowned director Yousri Nasrallah's films such as: Genenet Al Asmak, Ehky ya Shahrazad, After the Battle, and Bab Al Shams. He has also composed the music scores for several documentaries including Ostorat Rose Al Youssef by Mohamed Al Qaliouby in 2002, Ashekat Al Cinema by Producer and Director Marianne Khoury, Tamer Ezzat's Kol Shi Hayb'aa Tamam (2005) and Makan Esmo Watan, Tahani Rached's These Girls and Giran in 2009. In 2016 he composed the music for Kamla Abu Zikry's A Day for Women and Ali Edress' The Other Land both in the official selection of The Cairo International Film Festival.
Subniv Babuta
Jury Member
Subniv Babuta joined the BBC directly after finishing his studies at Oxford University. After a short stint as a producer for BBC Radio 4 & 3, he moved to London Weekend Television as a reporter and researcher. In 1987, he returned to BBC Television, and stayed there until 2006, as a Producer/ Director, then Executive Producer, in BBC News & Current Affairs. In 2006, Subniv joined Endemol, the world's largest independent production company, and now has his own production company, Damida Ltd., based in London. He was in charge of the BBC's Millennium Night broadcast, 2000 Today, the 26-hour live show and also an Executive Producer of the animated series The 99. Since its inception in 2000, Subniv has also produced each year the global television broadcast of The International Indian Film Academy Awards, now in its eighteenth year of production. His current portfolio includes various international documentaries, a new broadcasting venture featuring E-Sports, and a new crime series using virtual reality 3D animation enabling viewers to explore and interact with recreated crime scenes.
Sean McAllister
Jury Member
Director Sean McAllister is known for his candid, frank films, depicting with extraordinary intimacy the lives of ordinary people who are struggling to survive but are survivors, caught up in political and personal conflict, struggling to make sense of the world we live in. From his early films Working For The Enemy (1997) and The Minders (1998), both nominated for a Royal Television Society Awards, to his more recent successes, Sundance Jury Prize-winning The Liberace Of Baghdad (2004), Japan: A Story Of Love And Hate (2008) and 'The Reluctant Revolutionary, Sean's work continues to inspire, to surprise and to fascinate audiences. His most recent BAFTA nominated, multi award winning film, A Syrian Love Story (2015) was screened in the UK and European parliaments, released independently to critical acclaim, named The Guardian's #3 best film of 2015, and awarded the prestigious Cinema for Peace Justice Award. He is currently working on a feature documentary in Hull for the BBC and BFI.
.
Short Film Competition Jury
Kamel El Basha
Head of Jury
Kamel El Basha, born in Malha, southeast of Jerusalem, is an actor, director, writer and teacher from Palestine. He studied theatre from 1979 to 1983. As a young Palestinian activist, he was arrested by the Israeli authorities and imprisoned for two years. After his release he acted in a number of plays and directed almost 30 of them. His notable debut was with the Arabic version of Brecht's The Exception and the Rule. He has also written and translated several plays for the stage, and appeared in Palestinian TV series and films including Muayad Alayan's Love, Theft and Other Entanglements (2015), which was presented at the Berlinale. Ziad Doueiri's gripping courtroom drama The Insult (2017, GFF) won Kamel El Basha the Volpi Cup for Best Actor for his convincing portrayal of a Palestinian refugee in Lebanon at the 74th Venice International Film Festival. He is currently the Artistic Director of Quds Art.
Doris Bauer
Jury Member
Doris Bauer is a film curator and the spokeswoman for the Austrian Film Festival Forum. She studied political science at the University of Vienna. From 2006 to 2014 she worked as the managing director of Filmgalerie 8½, an independent DVD rental store in Vienna. Between 2008 and 2014, she was the director of espressofilm, an annual open air short film festival held in Vienna's 8th district. She is the head curator of the International Fiction & Documentary competition at Vienna Independent Shorts. In 2012 she co-founded the Austrian Film Festival Forum, an association of 22 film festivals in Austria.
Ahmed Malek
Jury Member
Egyptian actor Ahmed Malek' acting career got a flying start when he was cast to play young Hassan Al-Banna, founder of the Muslim Brotherhood, in the hit TV series El-Gama'a / The Brotherhood (2010). The Egyptian actor has already had an impressive acting career at a very young age, starting to gain international recognition after playing 'Mans' in the groundbreaking film Clash (2016) by Mohamed Diab. Malek then portrayed a Michael Jackson-obsessed teenager in Amr Salama's Sheikh Jackson, which was the opening film at the 2017 El Gouna Film Festival. He has been picked as one of the Rising Stars in a list of eight up-and-coming acting talents by TIFF and has been cast for his first international film, Montreal Girls, to be directed by Canadian director Patricia Chica. Malek is now a full-time student at the Cairo Contemporary Dance Centre. His latest film Gunshot, directed by Karim El Shenawy, will be screened at the current edition of El Gouna Film Festival.
Saba Mubarak
Jury Member
Saba Mubarak is one of the very few Arab stars whose repertoire includes a large number of highly successful works both internationally and throughout the Arab world. She graduated with a bachelor's degree in theatre acting and directing. Mubarak has received a number of awards including: The Special Jury Award at the Arab Theater Festival, the Best Actress Award at the Middle East Now Festival in Italy, two-time Best Jordanian Actress in 2009 and 2010. Most recently, Mubarak won the Best Actress Award at the Silk Road International Film Festival for her role in The Guest: Aleppo-Istanbul that also won a staggering seven awards from international film festivals. Mubarak took part in the 2018 Ramadan race with her role in the hit TV series Taye. Mubarak established her company, Pan East Media in 2013. She produced the TV series Zain and Tawq Al Asphalt.
Liz Shackleton
Jury Member
Liz Shackleton is Asia Editor for Screen International, overseeing Asia-related content across the publication's website, monthly print editions and daily magazines at international film festivals and markets; and works closely with Screen's editorial team in London and Los Angeles. Since she moved to Asia in 2001, she has tracked the phenomenal growth of the mainland China film market, building relationships with leading industry players; and she also built networks across India, Southeast Asia, the Middle East, South Korea and Japan. These networks enabled her to break hundreds of news stories, write indepth analyses and be the first to spot trends, including the emergence of China's streaming platforms in 2010. Shackleton is the founder of Chime Consulting, which helps Western companies and government agencies connect with the fast-growing film industries in China, India and the Middle East.
Nelly Karim
Head of Jury
Nelly Karim is an Egyptian actress, fashion model and ballerina. Her debut in filmmaking was through Shabab Alla elhawa, which introduced Nelly with the Egyptian - Turkish film escape "The Runaway Mummy", which was a turning point in her career. Then she starred in several successful films. In 2004, She won Best Actress award in the Cairo International Film Festival for her role in Enta Omry (My soulmate) and a Special Award at the Cairo National Festival for Egyptian Cinema in 2010 for her role in film One-Zero. A year later, she won the Jury Grand Prize at the Asia Pacific Screen Awards for her role in 678 followed by the Best Actress Prize for the same film at the Arab Film Festival in 2012. She was a jury member in both Cairo International Film Festival and Abu Dhabi Film Festival. Though other Egyptian artists have participated in the Venice International Film Festival's jury before, Nelly Karim was the first actress selected for this role in 2016. Most recently, she starred in Clash that premiered in Cannes' Un Certain Regard section and has been selected to represent Egypt at the 2017 Academy Awards in the Best Foreign Language Film category.
Najwa Najjar
Jury Member
Writer/ Director Najwa Najjar received her BA Political Science and Economics, MA Film (US). She has worked in both documentary and fiction since 2000. Her critically acclaimed debut was the award-winning feature film Pomegranates and Myrrh (2009). Her second award winning feature film Eyes of a Thief (2014) which won Best Director and Best Actor awards (among many others) brought for the first time in Palestinian cinema Egyptian superstar Khaled Abol Naga The film was the Palestinian nomination for the 2015 Oscars Best Foreign Film and the Golden Globe Awards. She's a speaker on numerous panels on cinema and a Jury member of several International Film Festivals. Najjar has reviewed books, and her articles on Palestinian cinema have been published. She has been a reader for the Rawi Sundance Lab for Arab scriptwriters and has been an advisor for the Rawi Sundance Scriptwriter's Lab for two consecutive sessions. She is currently in preproduction on her third feature film, a road trip: Son of a Very Important Man to be shot throughout Palestine.
Ali Mostafa
Jury Member
Ali F. Mostafa is one of the pioneering Emirati filmmakers. Growing up in the UAE, Ali pursued his goal in 2003 when he enrolled at the London Film School to obtain an M.A. of practical training in film. He set up his own production company, AFM Films in 2007, producing feature films, short films, documentaries, TV commercials, and corporate films. Ali's short graduation film Under the Sun has been officially selected and nominated for best Foreign Film in various international festivals across the world. It also won ‹Best Emirates Film 2006, In the Emirates Film Competition held in the countries Capital, Abu Dhabi. Ali's work gained him recognition as Best Emirati Filmmaker, by the Dubai International Film Festival in 2007. His latest feature, The Worthy produced by Imagination Abu Dhabi, is the Arab world's first postapocalyptic thriller. Ali was awarded Man of The Year in 2014 by Esquire Magazine's Man at His Best Awards for his achievements in helping build a UAE film industry.
Anissa Daoud
Jury Member
Anissa Daoud is an actress, author, producer and director for cinema and theater. She works on creations often focused on transdisciplinary. She is currently starring in Lotfi Achour's feature film Burning Hope, which she co-wrote and produced. In parallel to her work as an actress she co-founded the A.P.A: Artistes Producteurs Associés and created a production tool that resembled her, based on the meeting of artists from diverse disciplines and with a requirement to bring coherence between the artistic works and their means of production. In cinema, she has produced in addition to Burning Hope, the short films Law of the lamb by Lotfi Achour, that was in official selection at the Cannes Film festival 2016 and All the rest is the work of man by Doria Achour, that was in official selection of the Venice Film Festival 2016. She is currently preparing the shooting of The Bath which will be her first short film of fiction after numerous collaborations as artistic director on the short films of Lotfi Achour and also developing a screenplay for her first feature film Les immortelles.
Nina Rodriguez
Jury Member
Originally from Cologne, Germany, where she started working in the music industry, Nina Rodríguez holds an MA in the Presentation and Preservation of the Moving Image from the University of Amsterdam and has been Head of Programming at the Guanajuato International Film Festival in Mexico since 2006. Having collaborated with the Abu Dhabi Film Festival in the past, she is currently also part of the team behind Qumra, an initiative of the Doha Film Institute providing mentorship for international film projects from development through post-production. She served as Academic Coordinator for the Pueblo Mágico Mexican Film Residency in Tepoztlán and has curated showcases and participated on panels and juries at many other Mexican and international events including FICG, Tous Ecrans, Berlinale Talents and Sarajevo Film Festival.
.